Post Date:
November 23, 2022
---
antonia
Since 2014, millions of expired domains have passed through our hands. We've seen it all – great domains with high metrics, domains from countries worldwide, and some really spammy ones.
And we've meticulously been improving our evaluation system to give you the finest names out there. So far in our process, we've collected data about the basic information of these domains – DR, DA, niche, backlinks, and age.
But for the SEO Mastery Summit, we decided to dig deeper and discover how the sold expired domains were used.
Thus, this case study was created.
How Are Expired Domains Usually Used
Generally, there are 4 major ways to use an expired domain:
Money site;
301 redirect;
PBN;
Wayback restore;
Money Site
If the expired domain has high metrics, a strong backlink profile, and clean history, then you can turn it into your main money site. Instead of building an online presence from scratch, you save time and get faster results in ranking and traffic.
301 Redirect
Another popular use of expired domains is redirecting them to your money site. Thus, you'll harness the power of their link juice and quickly pump up your website without having to build backlinks one by one.
PBN
Expired domains are perfect for creating your own private blog network. Again they save time, money, and human power. You can choose domains from different countries with varying ccTLDs, Whois information, and backlink profile. The perfect start to hiding your PBN and avoiding footprints.
Wayback Restore
Some expired domains used to have tons of valuable content and it will be crazy for all of it to go to waste. In this case, you can decide to restore the website from one of its saved versions on the Wayback Machine (Archive.org). In just a few minutes you can have a fully operational website with useful content.
Case Study Data Sample
For this case study, we analyzed 7000+ expired domains sold at the SEO.Domains marketplace between January 1st, 2020 and October 1st, 2020.
These are the criteria for the data sample:
Only domains with backlinks;
No premium domains;
Hundreds of different buyers;
No single buyer accounts for more than 5% of the purchases;
Case Study Findings
To our surprise, 30% of the sold expired domains aren't used in any way. They are either abandoned or parked. Maybe they were an impulse purchase or their new owners have future plans for them, we'll never know for sure.
How Are Expired Domains Used
A whopping 64% of the expired domains were used to create a PBN (Private Blog Network), followed by 24% of 301 redirects, and 12% were turned into money websites.
Apparently, the Wayback restore is not as popular as we thought. But if anyone tells you that PBNs don't work anymore, show them this pie chart. PBNs are definitely not dead and prove to be a valuable asset for smaller markets and foreign SEO.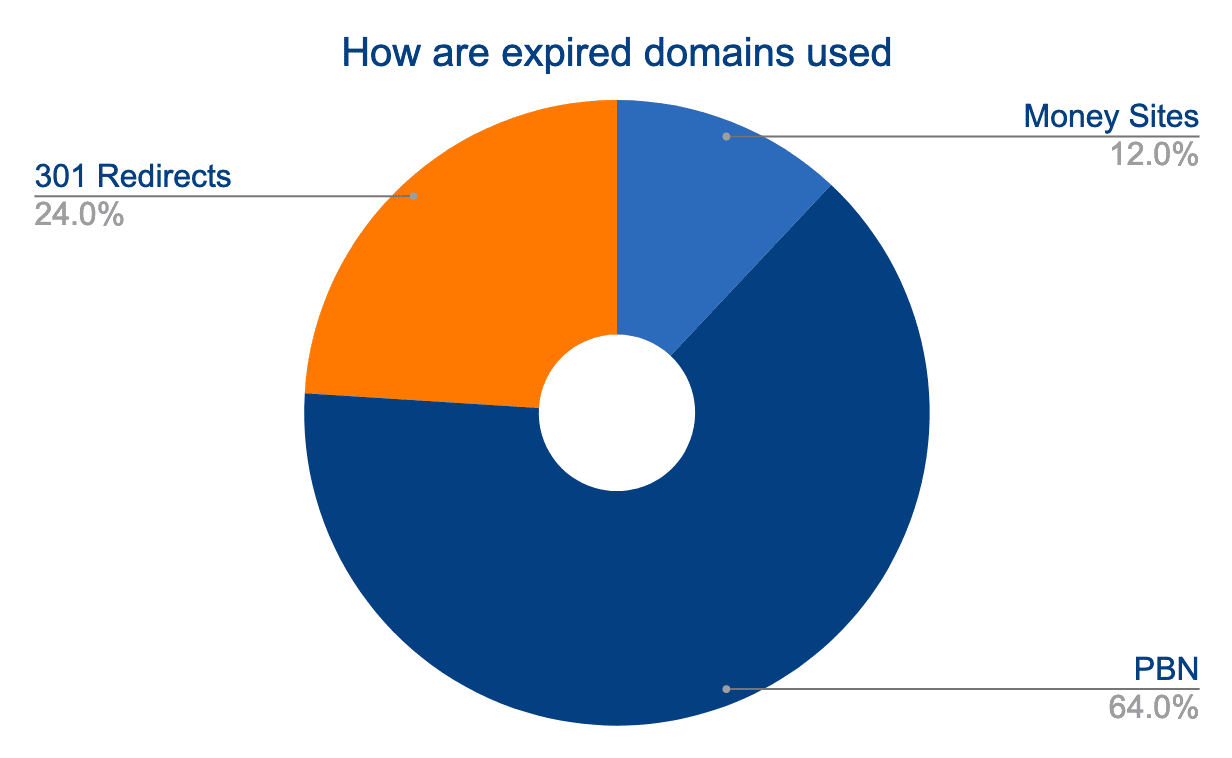 What Type of Name Servers Do Our Clients Choose
Cloudflare is a popular choice among our clients with a share of 24.3%. A small number of people (5.1%) use their own name servers. And a whopping 70.6% rely on a combo of other name servers.
This is not surprising since we learned that most expired domains are used for PBNs. A variety of name servers is necessary to avoid footprints.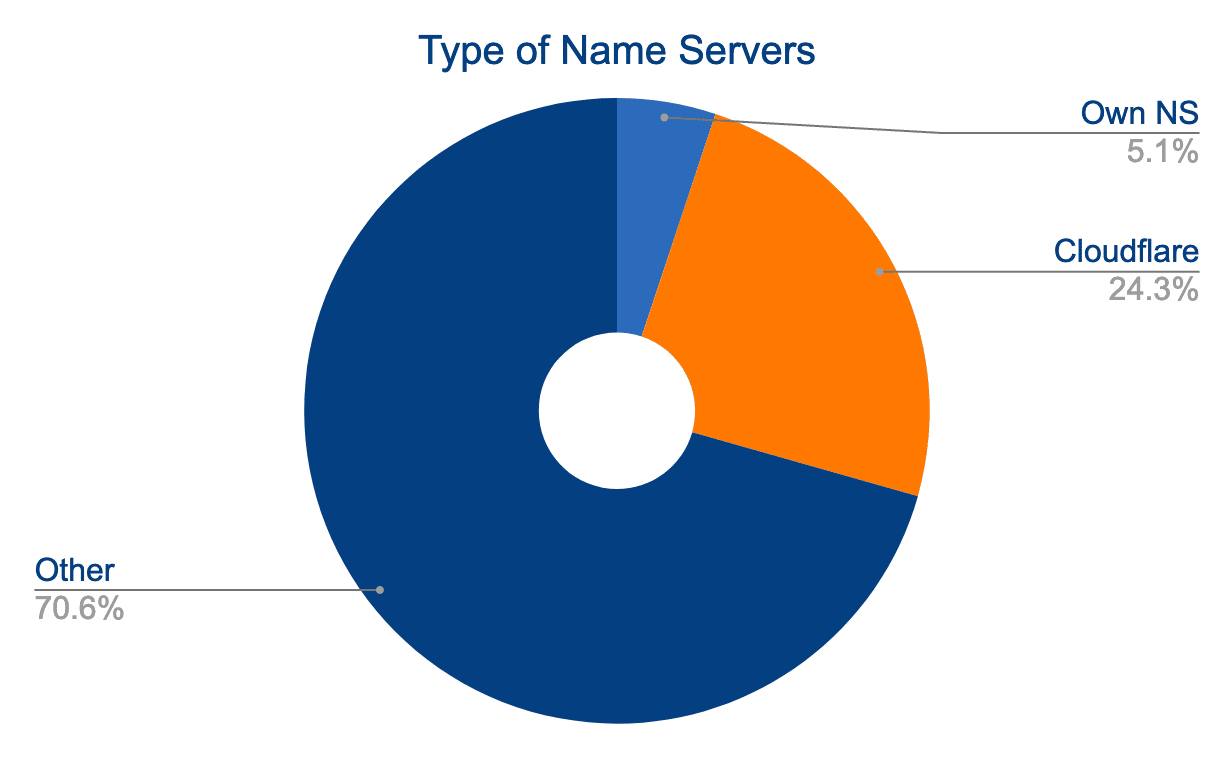 How Much of the Whois Information is Visible
8.5% of the sold expired domains have no whois data, and only 14.3% have visible information about the owner of the domain. Again, the largest share of 77.2% with hidden whois information is expected due to PBNs management.
Another reason for the high percentage of private owner data is GDPR (General Data Protection Regulation) which protects individuals in the European Union.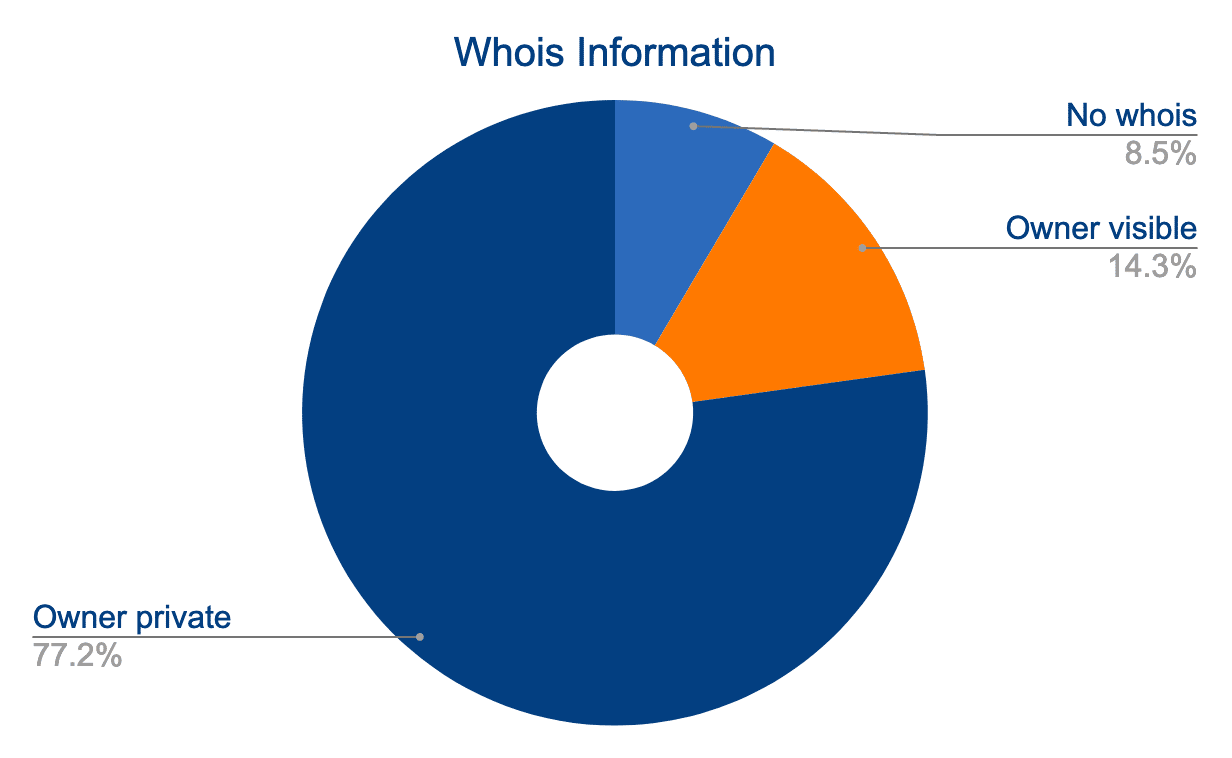 How Many Expired Domains Are Indexed in Google
This statistic is for all the people who are worried that the expired domain they bought won't be indexed by Google ever again. Clearly, most of the domains are indexed in Google and only 3.7% aren't indexed (and this could even include abandoned domains).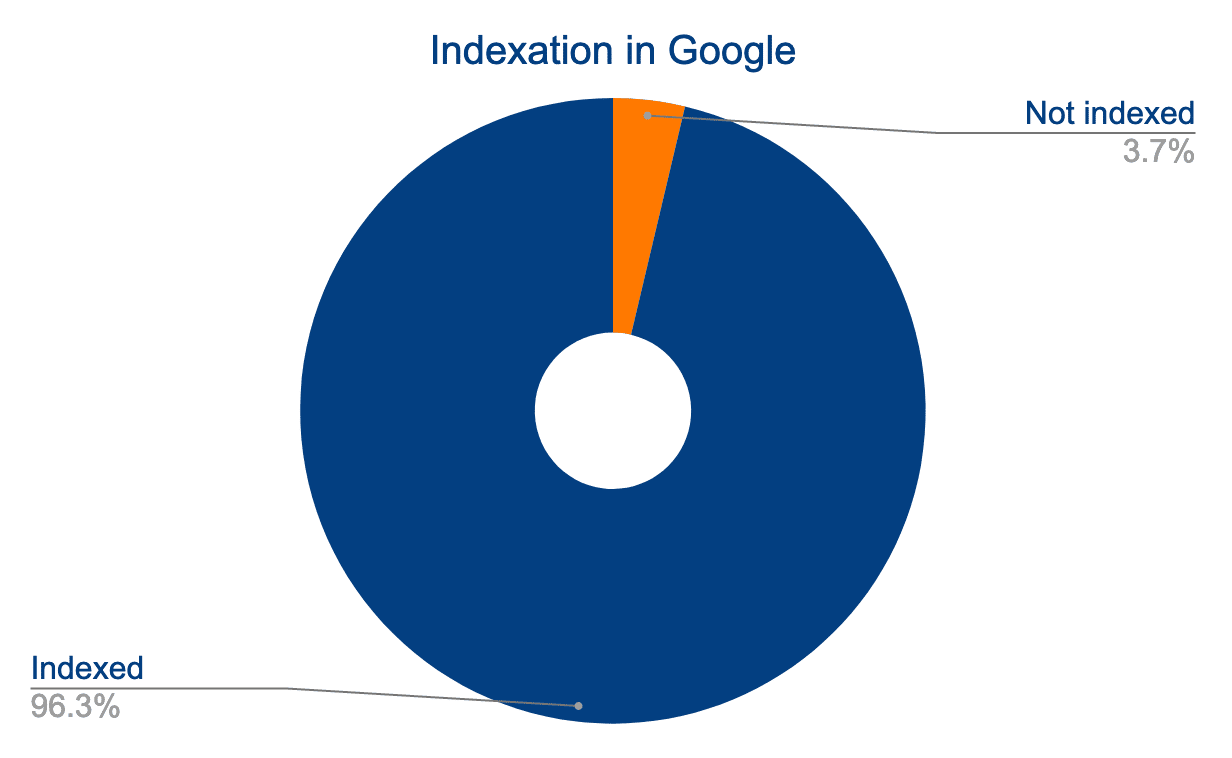 What CMS is Used for the Expired Domains
It's no surprise that WordPress has the largest share of 70% here. For years it has been the most popular CMS among SEO specialists and it still holds its grounds as one of the best choices.
The rest of the 30% is shared between various platforms and static HTML websites, such as the ones from Archive.org restorations.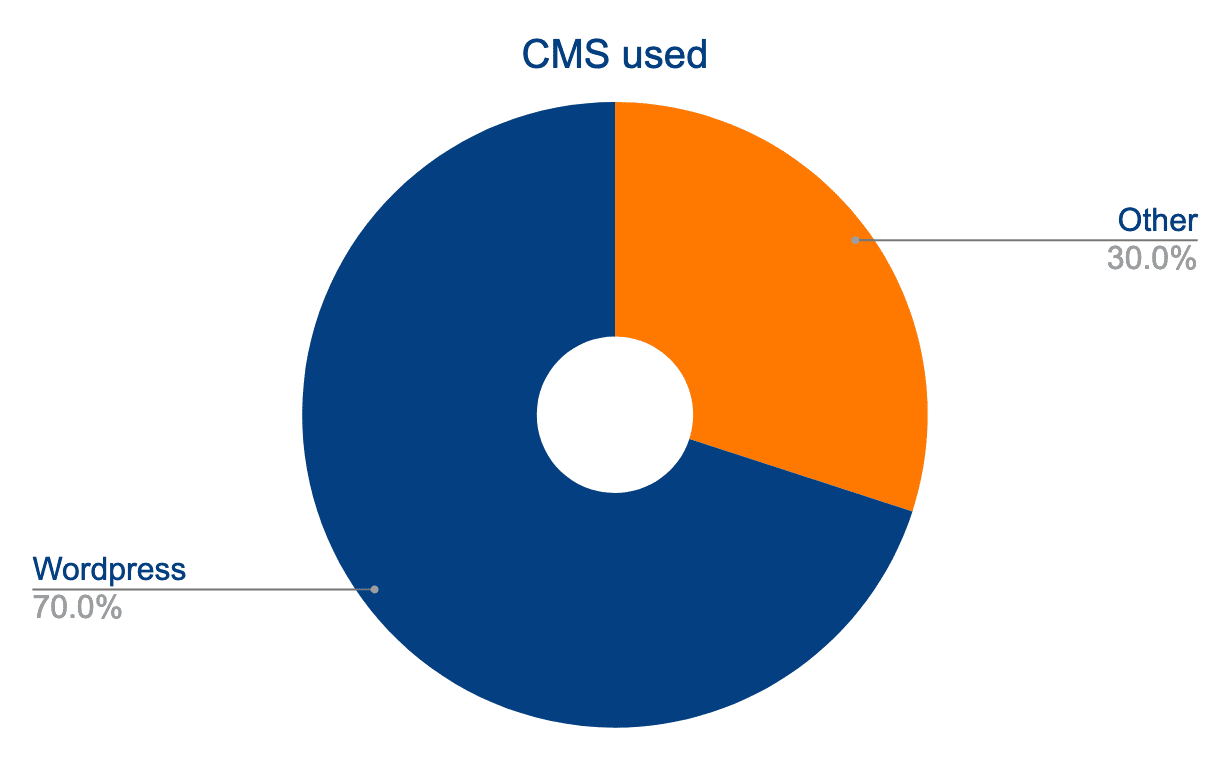 How Many Words is the Home Page Content
Despite SEO gurus teaching us to fill the home page with tons of content, most of our clients seem to make it work with less than 600 words.
However, one-third of the explored project have put their effort into providing long home page content between 600 and 5000 words.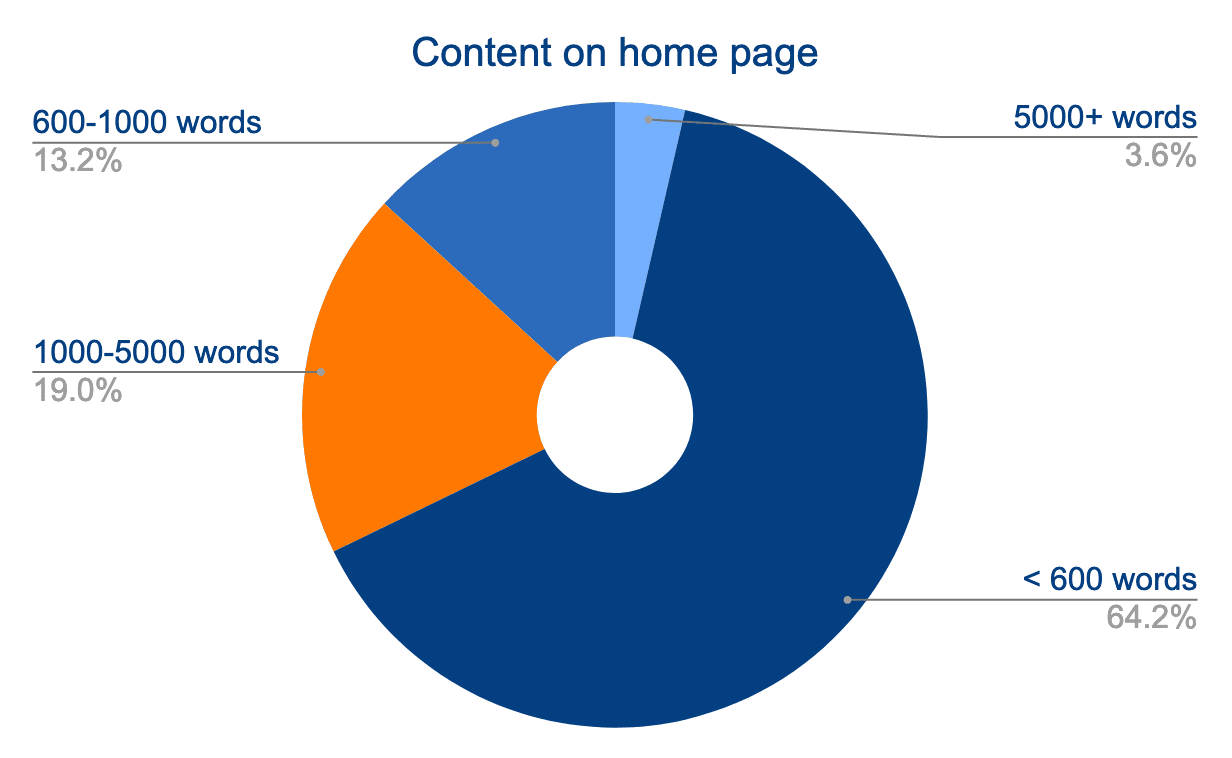 Success Story: 301 Redirect Analysis
To wrap up this case study, let's explore what was the effect of a 301 redirect on one of our client's websites.
A *************.co.kr (the expired domain) was redirected to a *********.com (a live website in a Korean-focused market).
Here are the details:
Redirection: June 2020;
Non-redirection backlinks: very few;
Relevancy: partial (hardware manufacturer -> privacy monetizing with VPN affiliate).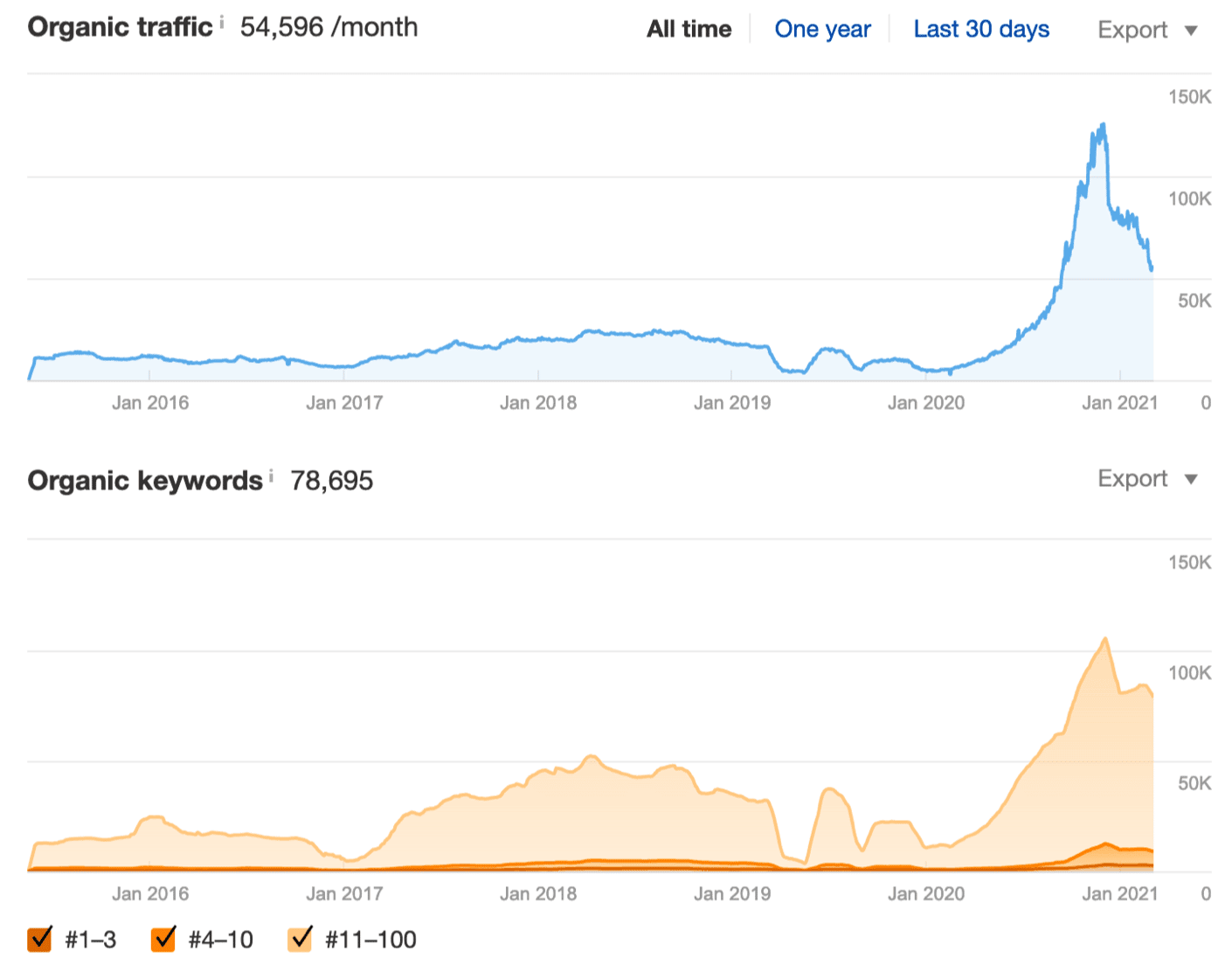 From the Ahrefs screenshot, you can see that the organic traffic skyrocketed by the end of the year 2020 and continued throughout 2021. A definite proof that redirecting expired domains can have an immense effect on your website and your SEO strategy as a whole.
Where to Find High Quality Expired Domains
Create a FREE account to see 20,000+ SEO domains for sale and take your business to the next level!