Buy High Authority Expired Domains for PBNs, Affiliate or Money Sites, 301 Redirects
20,000+ expired domains*
Hand-picked niche topics
150+ ccTLDs & gTLDs
*500+ expired domains added weekly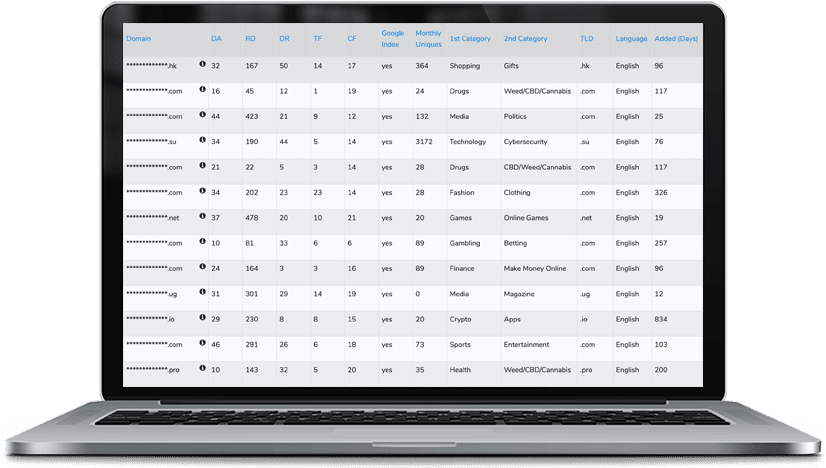 Solid domains. Huge inventory. Excellent service. What more could you ask for?
Who is SEO.Domains
SEO.Domains is a subsidiary of Edoms.com, founded by Kalin Karakehayov, a fast-growing 70+ people domain company. We've been in the SEO industry for 10+ years and since 2014 our mission is to deliver high authority aged domains to you at prices not dependent on auctions.
We do our own domain lists, so we know all the good expiring SEO domains in advance. Our domain database covers 99% of every existing or old domain with good backlinks and we've developed a system to spam-check and evaluate them.
SEO.Domains registers (a.k.a dropcatches) domains at the moment they become available again. We've invested over a million USD in infrastructure to be able to get for you all the good names with quality backlinks before anyone else.
Over 250 000 domains expire every day and with our state-of-the-art filtering system, we choose the best 5000 and evaluate each and every one of them manually for power, niche-relevancy, and potential spam problems. We use over 10 APIs including Ahrefs, Majestic, Moz, all integrated into our custom domain evaluating software, with the final call of an SEO professional. This process delivers a list of 300+ quality expiring domains, which we hunt using 100+ registrar accreditations, 200+ catching servers in 40+ countries with custom scripts sending over 30 Million registration attempts per day. Over 150 partner registrars also contribute to our success.
Our Expired Domains Portfolio
Evaluating and dropcatching SEO domains is our passion. We've sold over 17,000 authority aged domains аnd still have even more for sale, caught 0.05-0.5 seconds after expiration, meaning they were never seen by anyone else.
SEO value confirmed by an expert;
Affordable fixed prices, up to 2-3 times cheaper than auctions;
Top niches: iGaming, sports, crypto, health, finance, fashion, property, weddings, and more;
150+ TLDs thanks to a network of accreditations and partner registrars across the globe;
All important metrics (DA, Domain Rating, Referring Domains, Trust Flow/Citation Flow).
We have more data (a larger database) than expired domain list providers, but instead of offering lists, we directly dropcatch or acquire all the good domains possible. After the hard work is done by us you get high-quality old domains faster and easier, everything is one click away from becoming a part of your link building campaign or affiliate empire.
SEO.Domains Client Testimonials
Over 2000 affiliates and SEO agencies around the world have invested in our domains, often with crazy ROI. Check some of our client reviews to find out why we're one of the best places to buy authority domains.
Solid domains. Huge Inventory. Excellent service. What more could you ask for?"
If you are looking for quality domains for pbns/redirects, go to SEO.Domains, they have huge numbers of dropped domains, prices are good and delivery took a handful of hours only. These guys are the BIG DATA!
Aged gTLDs and ccTLDs with Backlinks and Traffic
As demand and auction prices continue to rise, our expired domains marketplace remains an affordable one. We offer high-quality PBN domains, including .com/ .net/ .org and any possible country, for up to 2-3 times less than the average auction prices.
The real bargain, however, is ccTLD domains. When it comes to domain authority, backlinks, and traffic, ccTLDs can give you a much better value for your money than gTLDs. Check all you need to know about expired domains for SEO, covered in this comprehensive expired domains video guide:
What you don't know about expired domains: Explained
Advantages of using ccTLD names for SEO:
Country code top-level domains are cheaper than top-level domains like .com.
They're suitable for the US market, as Google.com is the global search engine and all domains and countries are equal.
Most ccTLD domains don't have restrictions. If they do, we have the know-how to go around them.
Many ccTLDs don't have visible Whois data, making it easier to hide your PBN from Google. In fact, many don't have Whois at all!
99% don't go to auctions and aren't detectable in public auction lists, which means even fewer footprints for you.
Most importantly, we know everything about ccTLD domains and will share it with you! You can also check our list, renewed daily with 100 new SEO domains for sale.
You can find even more useful info on our FAQ page.
Some of Our Accreditations:




Join Your New Favourite Domain Marketplace
Create a FREE account to see 20,000+ SEO domains for sale and take your business to the next level!
Simply click "See Domains Now", enter your email address and you're ready to up your SEO game!